Event details
**IMPORTANT UPDATE ABOUT TIMINGS**
There is an extra race on Wednesday, so the FIRST RACE IS NOW EARLIER AT 1.45PM. The last race is 5pm as scheduled.
Gates open at 12 noon as scheduled.
There are 63 horses declared to run across the 7 races and more details can be found on the Racing Post website link below. Open the link up, and click on SALISBURY.
https://www.racingpost.com/racecards/2023-08-16/
WEATHER FORECAST for Wednesday – a pleasantly sunny and warm afternoon, 23°
The Going on the track is currently GOOD (GoingStick reading 7.6).
Children:  Accompanied children aged under 17 and under get in FREE at all Salisbury race days. There will be some Chair O Planes, Cups and Saucers, a 6 bed trampoline park and a large inflatable (weather permitting). This is located in The Sarum Enclosure.
Car Parking:  All car parking at Salisbury Racecourse is FREE and each car park is located just a short distance from the enclosures.
The courtesy bus will run from Salisbury Railway Station at midday and again at 1pm and will return after racing at approximately 5.20pm.
Stephen Little will be here signing his new book 'From Bicycle to Bentley'. Anyone who buys this will automatically be entered into a prize draw for a bottle of champagne.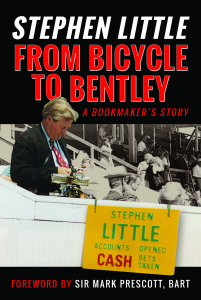 .